Robert and Elizabeth Jillett - Their story


The outlook for Robert Jillett must have seemed uncertain. He was nearly 40 years of age and had been transported for life, leaving a wife and five children in England. He was fortunate, however, in taking up with a Mrs Elizabeth Bradshaw (widow ), (née Creamer) not long after their arrival in Sydney.



Mrs Bradshaw was one of the Hillsborough wives who had permission to accompany their husbands to Botany Bay. She is referred to once by name in Noah's journal for having caught the fever from tending her husband and spreading it amongst the other women.



Elizabeth Bradshaw's husband Thomas was landed with the other convicts, after which he seems to have disappeared. He possibly died after disembarkation. In any case, Elizabeth arrived a free person with her daughter, Mary Anne.



An elder daughter Elizabeth had died in England), As a free person Mrs Bradshaw could own property and be assigned convict servants, one of which appears to have been Robert Jillett. When her three further children born in 1802, 1803 and 1805, were baptised on Norfolk Island in 1806, Robert Jillett was named as their father.
link to Elizabeth Bradshaw -Children



In Sydney Elizabeth Bradshaw had a dwelling in Chapel Row (later Camden Street and now Castlereagh Street). She also owned a small vessel, the Little William, master Robert Jillett, recorded as trading between Sydney and the Hawkesbury River. Recent research indicates that she purchased a property known as Badlife Farm in March 1803 for £150. That property was in the Hawkesbury area, previously owned by convict Topping, who purchased it from John Badlife, another convict who was granted the lease of a property in the Hawkesbury region.
To date records have not been discovered to reveal the sale of the property.



Then in April 1803, Robert Jillett was again tried for theft, this time accused of stealing 77 lbs of salted pork from government stores at Parramatta. Found guilty, he was again sentenced to death. After being taken to the gallows with the last rites to be administered by the Reverend Samuel Marsden, his sentence was once more changed to life imprisonment, this time being transported to Norfolk Island.
She immediately sold her property. Records show two transactions within 2 days of each other, to two different purchasers.

She received £27 for the house in Chapel Row, including the baking trough!

link to His Crimes in Australia


Elizabeth Bradshaw sold up her property in Sydney within the month to accompany Robert Jillett to Norfolk Island on the ship Buffalo. On Norfolk the couple lived as man and wife, Elizabeth Bradshaw among the largest landowners on the island. Later official policy was to abandon the first Norfolk Island settlement, this being implemented from 1807 to 1813.




When Robert Jillett and Elizabeth Bradshaw embarked on the Lady Nelson, bound for Hobart Town, in February 1808, they had five children. Robert and Elizabeth were to have a further five children in Van Dieman's Land, the last four being born after their marriage in 1812.

Elizabeth Bradshaw was allocated land in Van Dieman's Land, in compensation for property abandoned on Norfolk. Her land provided the basis for the family's livelihood, the couple becoming farmer and stock-keepers, deriving their cash income from selling meat and produce by tender to government stores.




Robert Jillett was conditionally pardoned in 1814. He died at New Norfolk, Tasmania, in 1832. Elizabeth died, also at New Norfolk, ten years later.
link to Robert Jillett's Will

From Dianne Struthers notes from Joan Jillett's notes 1990. Joan was one of the original compilers of Jillett history. Joan's husband Robert was a descendant of John Jillett.


"In 1760 (the year of birth of Robert Jillett) George 111 was crowned King of England. Times were very hard and many people were starving.

By the 1760's England had lost her American Colonies - she had been sending the overflow from her gaols to America and now she had to find somewhere else to send them. In many cases it was STEAL OR STARVE. Penalties for stealing were:

Stealing goods up to 1/- Gaol
Stealing goods up to 5/- Transportation
Stealing goods over 5/- Death.

Australia had been discovered by Captain James Cook in 1774 and a settlement was made at Port Jackson (Sydney) in 1788. Also in 1788, Lieutenant King was ordered by Captain Arthur Phillip, the first Governor of New South Wales to occupy Norfolk Island, about 1,000 miles north east of Sydney, in anticipation of a French settlement there. This was done and free settlers and convicts went there.

(note: Mary Ann Shone's family were amongst First Fleeters sent to settle Norfolk Island)


In 1795 (or earlier) Robert Jillett was arrested for burglary at Addington in Surry at the house of Mr Trecothie. He was sentenced at the Surry Assizes to Transportation.

While waiting in Ilchester Gaol, Somerset, for a ship he escaped.

In 1795-96 he spent the winter at Plymouth working with a shoemaker,
he had changed his name to Thomas Elston (his mother's maiden name was Elston).

On 26th December 1796 at East Smithfield, Robert was apprehended. At the time he
stated he had a wife and 5 children. (Nothing can be found of this family).

1797 he was retaken and committed for trial on January 7,1797, at Newgate Prison by
Magistrate Williams for being feloniously at large before expiration of the term for which
he had been ordered to be transported.

On January 11, 1797, he was tried at the Old Bailey, Middlesex, before the Chief Baron.
Found Guilty, but recommended to Mercy, but he was sentenced to death.

When convicted on January 11, 1797 he was aged 36 years, he was 5 foot 6 inches in height,
a dark complexion, brown hair and grey eyes. His Criminal Register said the above, but
also stated he was from Kingston on Thames and was a shoemaker.

His Indictment reads: Robert Gillett late of the Parish of Clapham, Surrey, labourer, and
John Markham late of the same, labourer on 17th March 1795 at Clapham did
steal: 9 woolen blankets value £3, one muslin toilet value 5 shillings, one woolen stuff petticoat
for a toilet table,
value 2/- one muslin cover for a toilet table value 1/0- one woolen coverlid for a bed value 2/-,
two cotton window curtains value 10/-, one set of furniture for a tent bedstead of linen and wool value 15/-, all belonging to David Feltham.


On February 24, 1797 Jillett was reprieved 'In CONSIDERATION OF SOME FAVOURABLE CIRCUMSTANCES HAVING BEEN PRESENTED ON HIS BEHALF".

(Reprieves (he had one in England and one in New South Wales) were apparently not automatic, intervention must have come from someone with either influence or money.

He was then sentenced to Life Transportation.

On September 28th 1797 he was transferred to the Prison Hulk Prudentia, at Woolwich. Hulks were old ships no longer good for taking to sea and were tied up in Harbours. Men were usually sent to Hulks for two years, but Robert Jillett's time was less.

It appears that prisoners on Hulks did outside work, such as roads, bridges, etc, and were returned each night to the Hulks where they were chained and guarded. The Hulks were apparently so dreadful that prisoners tried to get transported as quickly as possible.

On 26th July 1799, Robert Jillett arrived at Port Jackson, New South Wales from Portsmouth on the vessel Hillsborough

This was the worst Transport Ship to arrive in New South Wales in terms of lives lost on the journey.

There was typhoid on board. Men had been taken from other Hulks as well as the Prudentia, and there were quite a few fever-ridden convicts. On the journey to New South Wales, out of 300 prisoners, 95 died.

The convict's quarters were deluged and their bedding soaked. At one stage a youthful informant told the Captain that many convicts were out of irons and intended to murder the Officers. Those out of irons were flogged, receiving from one to six dozen lashes each were then doubled ironed, (shackled to someone else and handcuffed - or hands and legs both shackled). Some had iron collars around their necks and were kept closely confinced."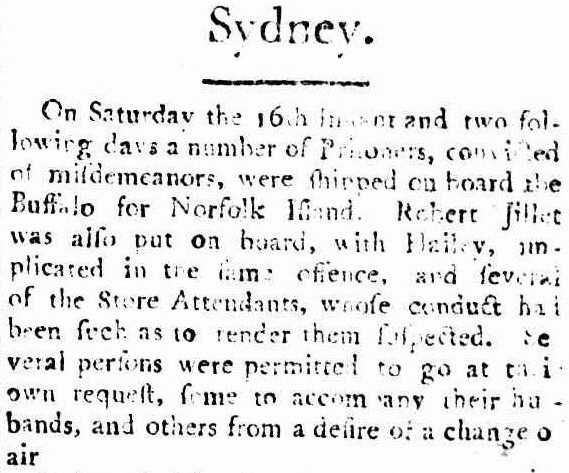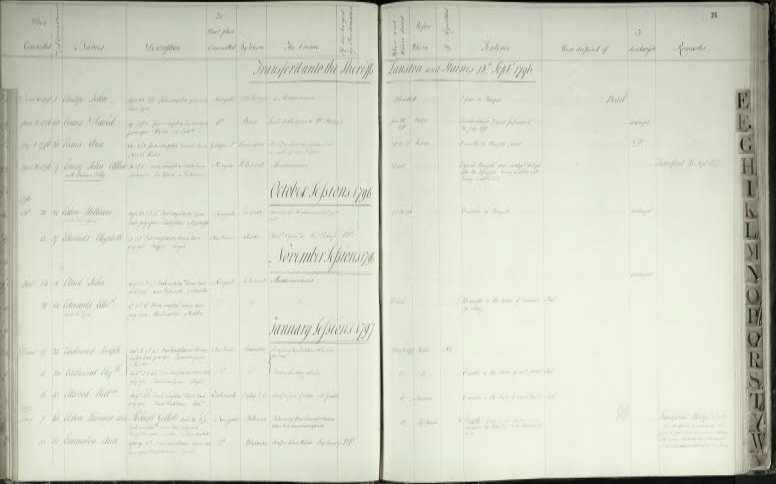 ---
After enduring those horrible conditions, life in Sydney must have been a dream for the many convicts. But spare a thought for poor Elizabeth. Her husband Thomas Bradshaw may have made it to shore after suffering typhoid on the Hillsborough, but no further records can be found. Author Frank Mc Clune writes a very interesting book about the trip on the Hillsborough and the early days of the settlement at Port Jackson. Elizabeth took up with Robert, or perhaps he chose her, whatever the case no-body knows.

But as a free settler, she would have had a convict assigned to her, and Robert was the lucky one. The Government did not have enough stores to feed everyone who had arrived, and it assigned convicts so that their keepers would be responsible for feeding them. Future musters indicate just how many people were either "on-stores" or "off-stores".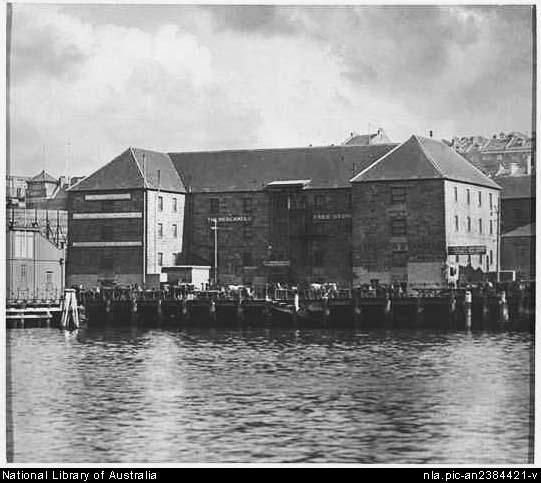 The Commissariat Store in Sydney (Bond Store) from National Library Archives.
PROMISSORY NOTES LOST From the Hobart Papers

LOST ON MONDAY LAST, 29TH.

Notes of hand 28 pounds 6 shillings and 3 for 50 pounds each.

All dated New Norfolk 14th June 1816.

Drawn by Mr Robert Jillett in favour of John Massey.

All persons are hereby cautioned against taking or receiving any of the above mentioned notes in payment.

Handsome reward to finder.

JOHN MASSEY

The Notes may have been lost; then again the debtor may have contrived to 'lose' them in order to delay payment to his creditor.
We can only wonder what crafty Robert might have done with the notes!