Thomas married Susannah Westlake on 27th November 1820. Thomas came from Sydney, having served four years of a sentence for passing a forged note in Shrewsbury, England, where he worked in a solicitors office.
With his pardon he was given a 60 acre land grant and three convicts, and with the government trying to settle the areas outside of Hobart Town, Thomas was given a wooded tract of land just outside of the new settlement of New Norfolk.

The area today, still is home to many of the descendants of the settlers who relocated from Norfolk Island.
The name Stanton was chosen by Thomas as an acknowledgement of his home village of Stanton-upon-Hine, in the old county of Salop, England.

He wasted no time in clearing land, erecting rough fencing for stock, finding a water supply (the area now known as Magra was originally called Back River, after the small river near Stanton) and erecting rough shelters.

Using a north/south alignment (as was the custom in England), a house site was chosen on gently sloping land above a spring creek, surrounded by hills, and facing towards the opening to this hidden valley.

The bricks were made by the convicts on the property, and the two-storey Georgian Stanton dates from the following year, 1817.

There is some evidence that the front of the house may have been built first, and then when more bricks and money became available, the back sloping section was added.

The original kitchen was a separate building at the rear, and a variety of outbuildings were erected nearby, including an oast (hops) house, stables, shearing sheds and quarters, barns, and smaller homes for other family members and retainers.

A subsequent additional land grant of 60 acres, and Shone s success at raising sheep and cattle, and growing wheat, barley, hops, vegetables and soft fruits, meant that he was in a position to purchase further land totalling approximately 200 acres in the Back River area.

(He also owned farms at Ouse and further along the Derwent towards present day Bridgewater.)

Thomas and Susannah Shone - Life at "Stanton"

The Shones success as farmers did not escape the attention of bushranger Martin Cash.
This Irish convict had been at Norfolk Island, escaped from Port Arthur, and
ranged around the southern parts of the Midlands and Hobart with his gang members Jones and Cavanagh.

Cash s Cave remains in the heavily bushed gully in the hills behind Stanton, and it was from here that he watched the property until, in February 1843, during an afternoon social gathering, he and his gang kidnapped a neighbouring farmer, James Bradshaw, and used his identity to gain entrance to the house.

Once inside, they herded the family, servants and friends into the living room, until 16 people were at gunpoint.

Removing valuables from their person and from the house, the Cash gang made off back into the hills, eventually being captured finally in August of that year, after a celebrated foot chase through the streets of Hobart.

This robbery is celebrated in Cash s autobiography, and is the subject of a chapter of Frank Clunes book, Martin Cash (1955).
An interesting postscript to the event is that, during the enquiry into the robbery, the presiding magistrate decided that Thomas Shone is not a fit and proper person to be supervising convict labour, and they will therefore be removed.

Shone understandably petitioned his innocence, the crux of the matter seeming to be that the powers-that-be suspected Shone of at worst complicity, at best sympathy, with the bushrangers, and that he was not deemed to have put up a sufficient fight during the robbery.

Shone protested that he and his family and friends were at gunpoint, the bushrangers took many things of value from the house, and what else was he supposed to do?! Authority won out, and Shone lost his convicts.

Thomas Shone's family owned Stanton until 1935, when the three brothers who conjointly owned the property, decided to sell up.
But … by the terms of their father s will, they were bound to allow their mother and any unmarried sisters to have the use of the house until such time as they died, remarried or chose not to reside there. By 1935, their mother had passed on, but two spinster sisters remained.

Their solution was to sell to a distant cousin, James Cockerill, but with very strict provisos regarding the division of the house - the Shone sisters had the use of the sitting and dining rooms downstairs, and the three bedrooms across the front of the house.

The Cockerill family lived in the three back bedrooms, and the two larger rooms downstairs, with all residents of the house having common use of the front hall and staircase.

Eventually (in their 90s!) one of the sisters passed away and the other moved into New Norfolk, and the Cockerills gained the use of the entire house.


Thomas Shone died at Stanton Farm, 10th June 1862 at 2.15pm, aged 72 years.
Susannah Shone died at Stanton Farm, 5th October 1882, aged 82 years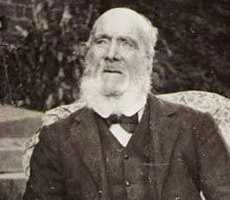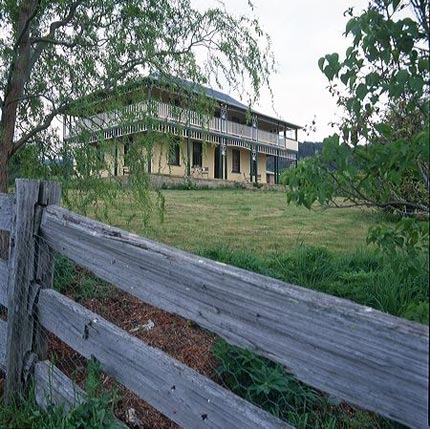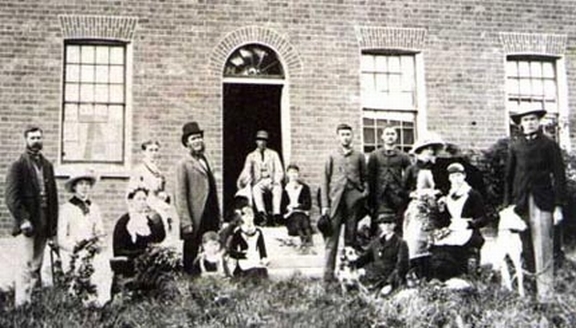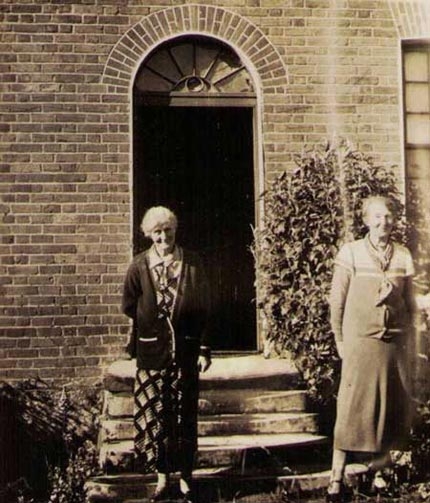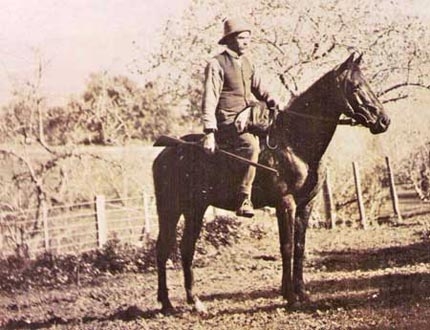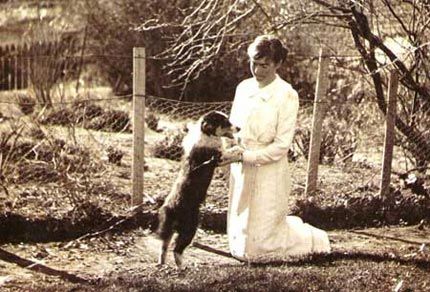 A Shone Family Gathering 1880's
Thomas and Susannah had Mary Ann and Thomas Allen Shone. Susannah also had Amelia Westlake (Shone)
Thomas Allen Shone and Eliza Cockerill had Eliza, Thomas Henry, Laura Lavinia, George Westlake, Alfred Edward,Walter Allen, Amelia Matilda, Amy Letitia Lilian Mary, Henric Stanton, Minna Estelle, Albert Charles. George Jillett married his first cousin Laura Lavinia Shone.

George and Laura are the couple to the left hand side of the photo, then Eliza Shone, Susie, Thomas Alan, Minna, Amy in the doorway, Tom and his wife, Alfred, George and Henric Shone, in the front is Millie, Lily and Walter and the dog. (From Ann Jillett's records)

Susannah had a daughter in 1815, named Amelia Westlake. Susannah would have been 16 at the time of this birth. Another of the mysteries of this family.
---
Thomas Shone

Stanton at Magra Central Tasmania, is now a beautiful B&B

Thomas Shone lived in Shropshire in England. He was tried aged 21, at the Lent hearings of 1810. He was sentenced
to 14 years transportation. He arrived in Australia in 1812 aboard the Guildford. He arrived in Tasmania aboard the Kangaroo.

On 23rd December 1816, Thomas Shone arrived in the Derwent Valley, at what was to become the property Stanton.

Thomas was born 12th April 1789. His parents were Thomas Shone B 7th January 1760, in Whitchurch, Salop. He married Hannah about 1784.

They had the following children:

William b 26 July 1785
Thomas b 12 Apr 1789 m Sussanah Westlake.
Hannah b 22 Aug 1791 d 25 May 1793
Elizabeth b 11 Sept 1796
Robert b 10 Nov 1797 m 1823 in Whitchurch, Sarah Cliff. He was sentenced for cattle stealing and sent to Van Diemen's
Land. He died in Hobart in 1831. They had one son Thomas b 1824
He married Sarah Ann Leech in Manchester. They emigrated to New Zealand.
This Thomas died in 1890, and Sarah in 1891


All were born at Stanton Upon Hine Heath, Salop, Shropshire.

Also convicted at the same time for having a forged note was Hannah Shone. (His mother) She was also convicted and sentenced to transportation for 14 years. However at this time there is no further records of her transportation.





When applying for an additional grant of land in August 1830, Thomas told the land board that he arrived at Sydney as a prisoner in 1812. He remained there as an assigned servant to Mr Secretary Campbell for six years, and upon receiving his conditional pardon in 1817, came on the brig "Kangaroo" to Van Diemen's Land, were he was granted 80 acres of land by Governor Macquarie.

In 1821 he received an additional 80 acres from Macquarie, and in 1825, Lieutenant Governor Arthur allowed him a further 200 acres. The first two grants which adjoined were at New Norfolk, while the last grant was situated in Ouse.

He stated that he had always resided at his New Norfolk farm. In January 1825 fifty acres of this was under cultivation and he was preparing to fence the remainder.

At this time he was married and had a family of three children. His stock consisted of about 100 head of cattle, 80 sheep and three horses.

He had erected in addition to some stock yards, his two story brick house forty three feet long by sixteen and a half feet wide. He named it Stanton.

Because of the distance he sold the Ouse farm before 1830 to David Jamieson. Before doing so he had made considerable improvements there including a log house of three rooms (where his brother in law resided as overseer for some time) and seventy acres of cleared land. With the money made from this sale he purchased two small farms of thirty acres each which adjoined his land at New Norfolk.

In this application, Thomas claimed that he had produced a thousand bushels of wheat last season, and expected to increase this by half in the next. He added that he had three children of his own, and also had to maintain a child of his sister in law, who had been left a widow with six children. (Probably Mary Westlake m John Boothman, he died 1829).

Because of his good character and industrious habits, the Board recommended that Thomas be given an additional grant of two hundred acres next to his present farm. Gov. Arthur allowed this grant. (CSO) 1/370/8428)

Thanks to Keith Reeves for this information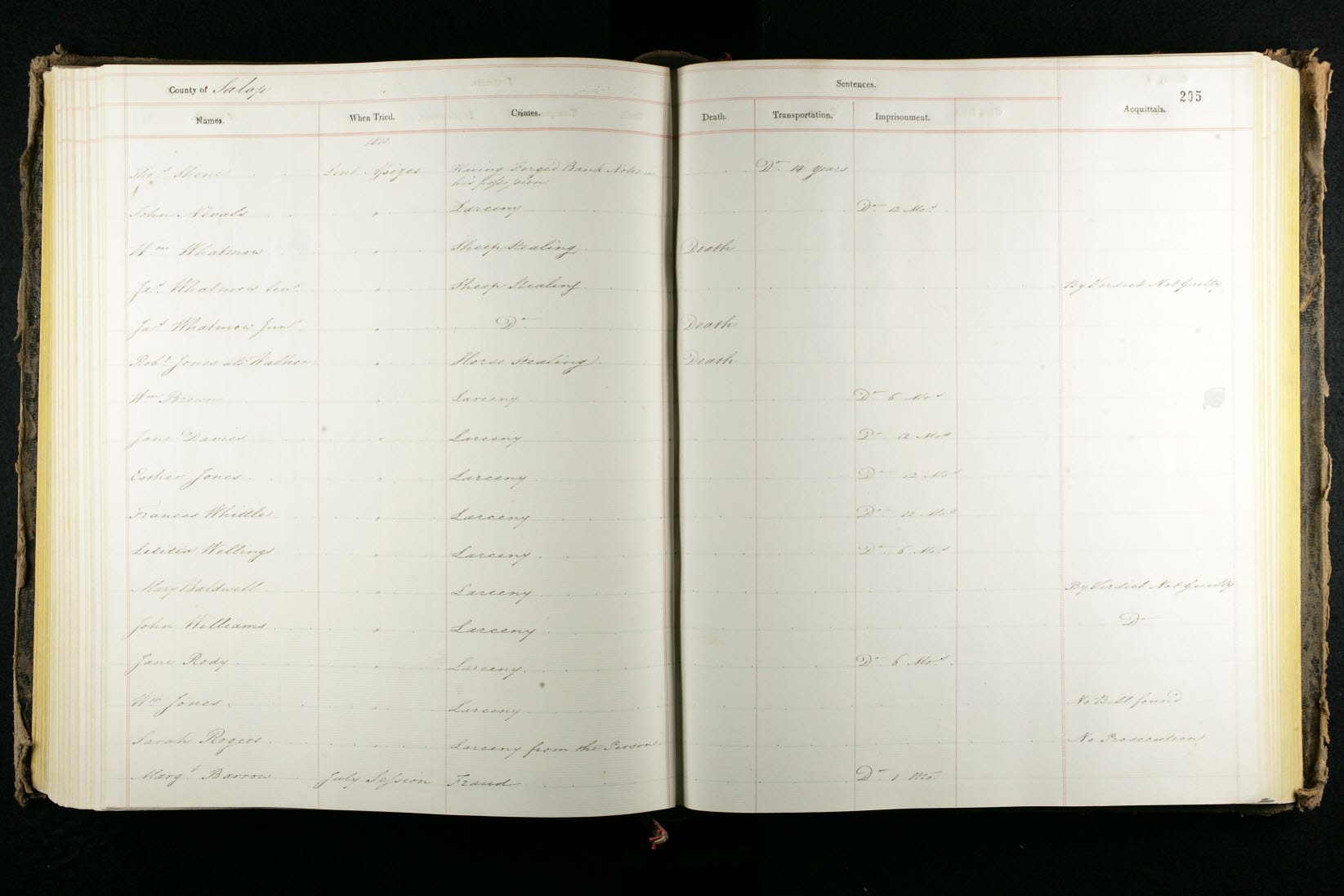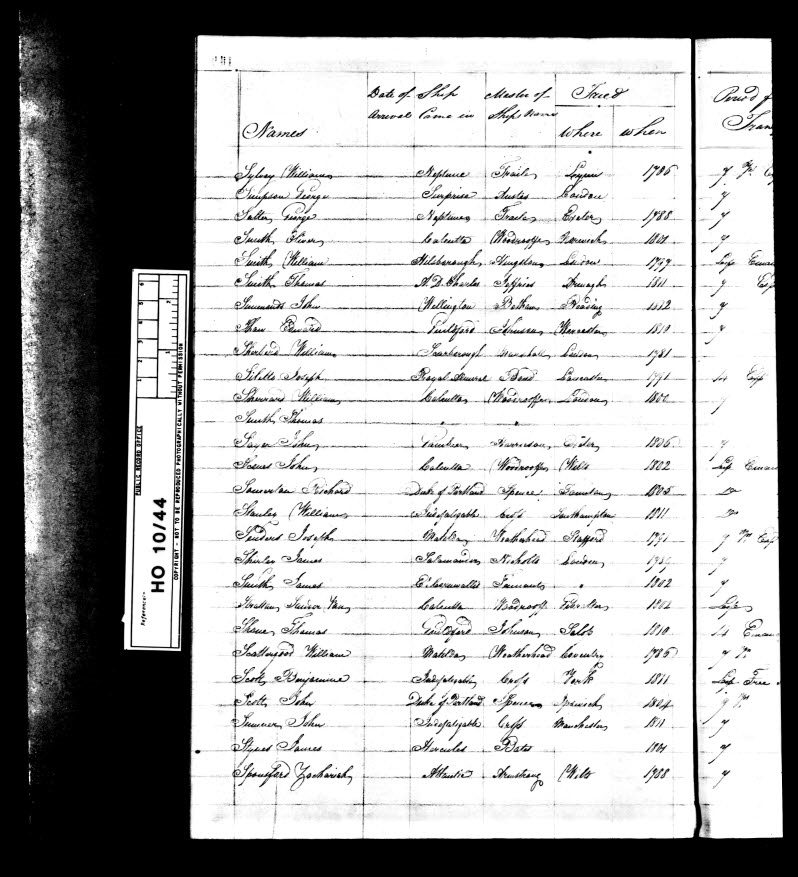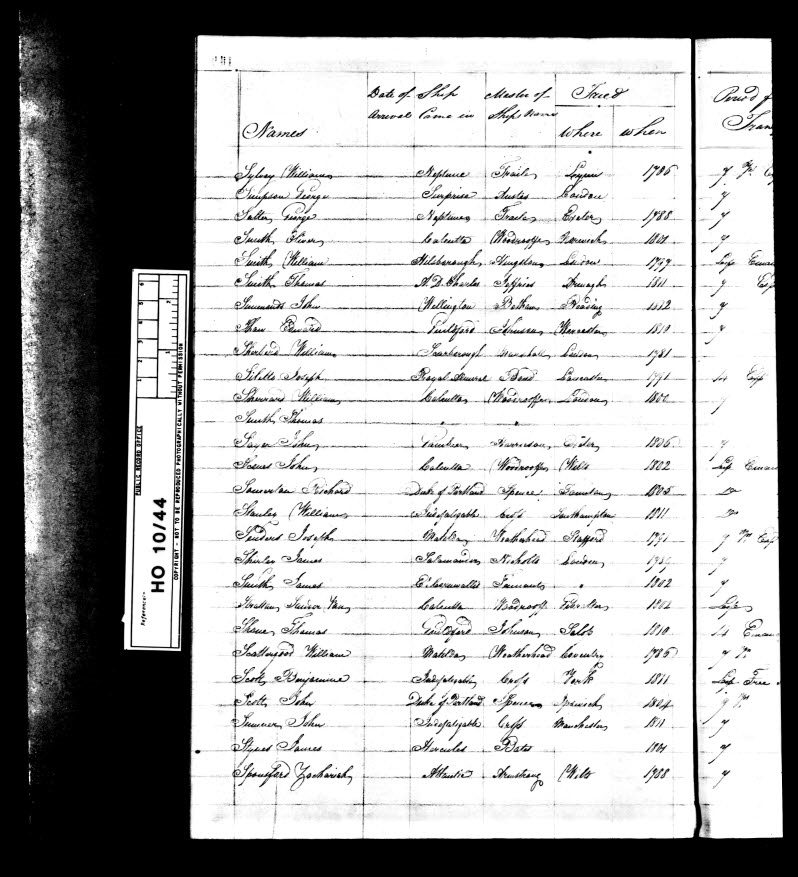 Arrived in Sydney in 1811 on the Guildford. Later sent to Tasmania on the Kangaroo